Human papillomavirus (HPV) is a common infectious disease. According to epidemiologic studies quoted by Centre for Health Protection (CHP), up to 75% of all sexually active people will be infected with HPV at some point during their lifetime. The virus is most commonly spread through sexual intercourse and intimate skin-to-skin contact. High-risk HPV infections may result in cancer, whereas low-risk HPV infections may cause genital warts. With no treatment or cure at the moment, HPV can only be prevented, thus it is better to get vaccinated earlier.
HPV 9-in-1 Vaccine is now registered in Hong Kong and in use. Receiving HPV 9-in-1 vaccine would provide further protection to yourself and your partner: 
Benefits of HPV 9-in-1 Vaccine
Prevent the four most prevalent high-risk and
carcinogenic HPV types (HPV 16, 18, 52, 58)
in Hong Kong *
Prevent high-risk HPV types 16, 18, 31, 33, 45, 52, 58 (causing a total of 90% of cervical cancer), lower the risk of passing above high-risk HPV types to partner and thus the incidence of cervical (pre)cancer
Reduce 90-95% of the risk for anal cancer
Reduce 90% of the risk for genital warts
*Lo K PREVALENCE OF HUMAN PAPILLOMAVIRUS IN CERVICAL CANCER: A MULTICENTER STUDY IN CHINA, Int. J. Cancer: 100, 327–331 (2002)
 

HPV 9-in-1 Vaccine

HPV 4-in-1 Vaccine

Prevention of HPV types

HPV 6, 11 (low-risk)




HPV 16, 18, 31, 33, 45, 52, 58 (high-risk) 

HPV 6, 11 (low-risk)




HPV 16, 18 (hig-risk)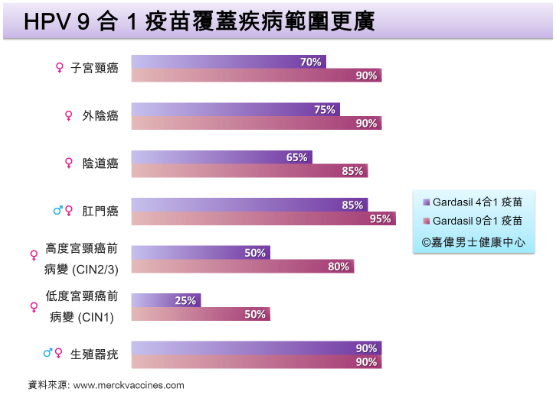 Suitable for

Men and women aged 9 or up




People with higher risk of HPV infection are recommended to receive the vaccination as soon as possible: 




– Have multiple sex partners or have intercourse with people who have multiple sex partners 




– Immunodeficiency 




– People who smoke or have premature sex

Internationally recognized

✔

Manufacturer

Merck Sharp & Dohme (MSD)

Durability

There will be sufficient immunity to fight against HPV when all 3 doses are given in accordance to the vaccination timetable. No booster is required so far.

Vaccination method

Given as injection into a muscle in upper arm

Vaccination timetable

The first dose: your preferred day




The second dose: two months after the first injection




The third dose: six months after the first injection
Who should not get vaccinated?
People who are allergic to enzymes or any of the components of the vaccine
Side effects of the vaccine
Common side effects include pain, swelling, bleeding, erythema and itching caused by the injection. Some people may have fever and headache. Those are not prolonged symptoms and will go away automatically.
Important Notes
The World Health Organization identifies HPV 6, 11, 16 and 18 as the most common HPV types. In Hong Kong, the Centre for Health Protection identifies HPV 11, 16 and 18 as the most common HPV types.

The vaccine is only preventive. It cannot be used for treatment of active genital warts, erase pre-existent HPV and protect against diseases that are not caused by HPV.

People who were infected or are currently infected with HPV should also get vaccinated in order to lower the risk of getting infected with other HPV types.

Postponing the injection is recommended if you currently have fever or taking antibiotics.

According to the manufacturer's guidelines, HPV 9-in-1 vaccine can be administered at least 12 months after completing the administration of HPV 4-in-1 vaccine.

Consult a doctor in advance if you are under medication or suffering from immunodeficiency.

The indicated age for HPV vaccine in Hong Kong is male and female from the age of 9 years.

A consent form needs to be signed before the vaccination.
If you intend to get injected with the HPV vaccine, you will be asked to reveal your sexual history during the consultation. In some cases, test(s) on sexual contagious diseases may need to be performed in order to accurately determine the best treatment method. Please refer to here for more information about sexual contagious diseases check-up and treatments.
Price
| | |
| --- | --- |
| HPV 9-in-1 Vaccine (3 doses) | HK$6,500 |
Sources